Accommodation: Apartment Martinovic
Tivat, Montenegro
category
category
category
Number of views: 3614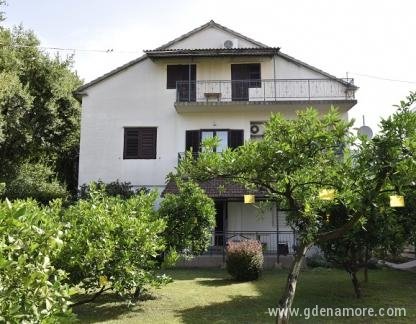 Apartment:
Room:
Studio:
Whole object
The apartment is located in Seljanovo, in a quiet part of Tivat below the Adriatic Highway, not far from the coast. Distance from the coast is 70! At a distance of 300 meters is the complex "Porto Montenegro".
The apartment has two bedrooms cc.62 m2.
Kitchen fully equipped, air-conditioned rooms, LCD TV, internet, terrace, parking!
Legend:
All rooms, apparments
Some rooms, apartments
No
Capacity:

1 apartman

Seaview:
Water 24h:
Bathroom:
Kitchen:
Room service:
Safe box:
Large terrace:
Balcony:
Air conditioning:
TV:
Cable TV:
Internet:
Telephone in the room:
Parking:
Garage:
Pool:
Suitable for children:
Pets allowed
Suitable for disabled people:
Characteristics of accommodation
Legend:
All rooms, apparments
Some rooms, apartments
No
Capacity:

1 apartman

Seaview:
Water 24h:
Bathroom:
Kitchen:
Room service:
Safe box:
Large terrace:
Balcony:
Air conditioning:
TV:
Cable TV:
Internet:
Telephone in the room:
Parking:
Garage:
Pool:
Suitable for children:
Pets allowed
From the center:

meters

From the beach:

meters

From bus station:

meters

From airport:

meters
From ambulance:

meters

From restaurant:

meters

From sports fields:

meters
Prices and payment options
Payment options:
Cache:
By bank transfer:
Credit cards:
In Pre-season

55

In high-season

65

In post-season:

55

Out of season:
Updated: 06/16/2022
Powered by GdeNaMore.com